Product Search Results
Models are electrically specific as indicated by the last letter. Model number suffix "-A" is 60Hz. Model number suffix "G" is 50Hz. Example: Model P10-A is a 60Hz unit.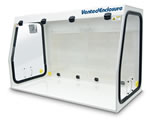 Ideal for containment of powders and fumes during compounding or weighing, Vented Enclosures offer important safety features that are not found with any other competitive products.
Fume Extractor for Vented Enclosure
Vented Enclosure for Compounding and Powder Weighing, Standard Height
Vented Enclosure for Compounding and Powder Weighing, Tall