Product Search Results
Models are electrically specific as indicated by the last letter. Model number suffix "-A" is 60Hz. Model number suffix "G" is 50Hz. Example: Model P10-A is a 60Hz unit.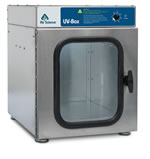 UV Light Box is a high-efficiency chamber designed to create light emission conditions known to safely decontaminate contents while providing for a safe work environment for the operator. High intensity UV lamps destroy exposed surface DNA and bacteria.