Product Search Results
Models are electrically specific as indicated by the last letter. Model number suffix "-A" is 60Hz. Model number suffix "G" is 50Hz. Example: Model P10-A is a 60Hz unit.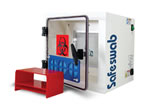 With a HEPA main filter formulated to contain any particulates or biological material that might be present on swabs, Safeswab is used to safely dry evidence swabs while protecting them from cross-contamination.