Product Search Results
Models are electrically specific as indicated by the last letter. Model number suffix "-A" is 60Hz. Model number suffix "G" is 50Hz. Example: Model P10-A is a 60Hz unit.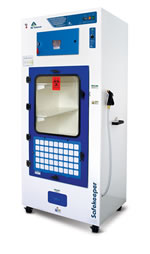 Safekeeper series forensic evidence drying cabinets are designed to store, dry or otherwise process forensic evidence in the controlled environment of a tamper-resistant compartment to maintain the chain of custody.
Safekeeper Benchtop Forensic Evidence Drying Cabinet
Safekeeper Downflow Forensic Evidence Drying Cabinet
Safekeeper Evidence Drying Cabinet, Extra Wide Tall
Safekeeper Evidence Drying Cabinet, Four Chambers
Safekeeper Evidence Drying Cabinet, Standard Height
Safekeeper Evidence Drying Cabinet, Tall
Safekeeper Evidence Drying Cabinet, Tall, Duplex
Safekeeper Evidence Drying Cabinet, Three Chambers
FDC-010TRI-A
-
Triple door, three chambers, 72"W, 115VAC, 60Hz
FDC-010TRI-G
-
Triple door, three chambers, 72"W, 230VAC, 50Hz
Safekeeper Multiple Chamber Evidence Drying Cabinet, Standard Height, Duplex