Product Search Results
Models are electrically specific as indicated by the last letter. Model number suffix "-A" is 60Hz. Model number suffix "G" is 50Hz. Example: Model P10-A is a 60Hz unit.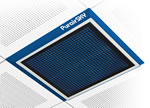 The Purair SKY ceiling mounted filtration units are designed to protect laboratory personnel and the environment in areas where hazardous substances are handled.
Purair SKY Ceiling Mounted Air Filtration