Product Search Results
Models are electrically specific as indicated by the last letter. Model number suffix "-A" is 60Hz. Model number suffix "G" is 50Hz. Example: Model P10-A is a 60Hz unit.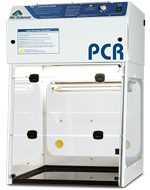 The Purair PCR workstation offers protection by laminar flow for PCR amplification handlings that are extremely sensitive to contamination with ease of UV decontamination and sterilization cycles.
Purair PCR Laminar Flow Cabinet