Product Search Results
Models are electrically specific as indicated by the last letter. Model number suffix "-A" is 60Hz. Model number suffix "G" is 50Hz. Example: Model P10-A is a 60Hz unit.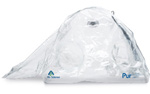 Air Science provides containment solutions to meet any analytical need. The Purair Flex glove bag is a portable, cost-effective flexible film isolator with more volume, easy setup and safety options.
Purair FLEX, Portable Isolator