Product Search Results
Models are electrically specific as indicated by the last letter. Model number suffix "-A" is 60Hz. Model number suffix "G" is 50Hz. Example: Model P10-A is a 60Hz unit.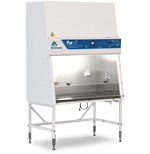 The Purair® BIO biological safety cabinet (BSC) is certified for safety and performance in accordance with NSF/ANSI Standard 49 and EN12469 which certifies Class II, Type A2 laminar flow cabinets are suitable for working with biosafety agents at levels 1, 2, 3, and 4. Air Science 4-foot models are certified by NSF.
Purair BIO Biosafety Cabinet