Product Search Results
Models are electrically specific as indicated by the last letter. Model number suffix "-A" is 60Hz. Model number suffix "G" is 50Hz. Example: Model P10-A is a 60Hz unit.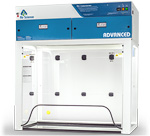 The Purair Advanced Series ductless fume hoods are available in 7 standard sizes in metal or polypropylene construction. This Series of high-efficiency products is designed to protect the user and the environment from hazardous vapors generated on the work surface.
Purair Advanced Ductless Fume Hood
Purair Advanced Ductless Fume Hood, Polypropylene