Product Search Results
Models are electrically specific as indicated by the last letter. Model number suffix "-A" is 60Hz. Model number suffix "G" is 50Hz. Example: Model P10-A is a 60Hz unit.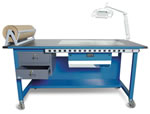 The Air Science Evidence-Bench series of laboratory work tables is designed specifically for high volume processing of forensic evidence by multiple users. Professional design and construction features offer convenience during use, cleaning and maintenance.