Product Search Results
Models are electrically specific as indicated by the last letter. Model number suffix "-A" is 60Hz. Model number suffix "G" is 50Hz. Example: Model P10-A is a 60Hz unit.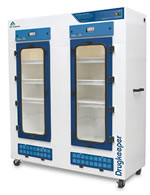 Drugkeeper storage cabinets can be used for short-term storage of hazardous chemicals and substances typically associated with drug investigations.
Drugkeeper Storage Cabinet