Product Search Results
Models are electrically specific as indicated by the last letter. Model number suffix "-A" is 60Hz. Model number suffix "G" is 50Hz. Example: Model P10-A is a 60Hz unit.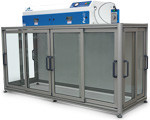 We build custom enclosures for specific customer requirements and applications. Each unit is designed to maximize operator safety and accessibility, and is tested and certified to factory specifications and industry standards.