Purair BIO Biosafety Cabinets Search Results
Models are electrically specific as indicated by the last letter. Model number suffix "-A" is 60Hz. Model number suffix "G" is 50Hz. Example: Model P10-A is a 60Hz unit.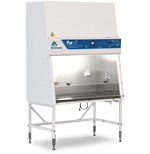 The Purair BIO Class II, Type A2 Biological Safety Cabinets are designed to protect individuals, the environment, and products from a variety of biological particulates, serving as the primary barrier in life science research and experimentation.
Purair BIO Biosafety Cabinet