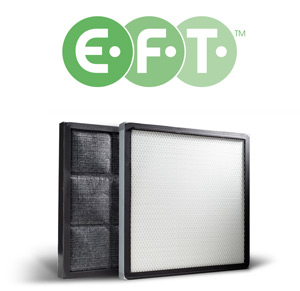 When Air Science developed the concept of
Enhanced Filtration Technology™
(EFT) in 2010, the intent was to broaden the applications of ductless fume hoods by tailoring the chemistry of carbon filters and to provide filter combinations for a wider range of chemical classes. In applications where multiple uses of the ductless fume hood must be accommodated, the EFT approach is a practical solution for safety and flexibility.
Air Science carbon filters can be specifically prepared to protect against multiple chemical families through a single filter assembly. Additionally, HEPA or ULPA filters can be added to protect against biologicals or other particulates.
When used in conjunction with the Air Science
Multiplex™ Filtration System
, this activated carbon mix can be configured in numerous ways depending on need.
EFT can be constructed in a single, blended, or layered mix, or combined with one or more carbon filters (stacked). When supplemented with secondary HEPA or ULPA filtration, EFT adds protection against particulates or biologicals.