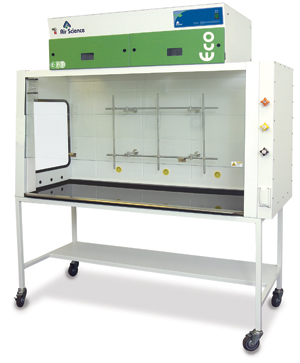 (Ft. Myers, FL, USA, September 3, 2010)
Air Science, Ft. Myers, FL, today introduced the company's Purair ECO™ line of energy-saving ductless fume hoods designed for both chemical and particulate protection over a broad range of laboratory and industrial applications.
Development of the Purair ECO is in response to an increasing worldwide demand for safe, cost-effective and energy-efficient ductless containment cabinets that minimize stress on facility HVAC systems without compromising protection for personnel and the environment.
The Purair ECO is available with a choice of controllers including the company's new ECOair™ touchpad control with color display interface. An optional BACnet network interface connects all cabinet control, monitoring and alarm functions to an open-source facility monitoring system based on an industry-wide, non-proprietary ASHRAE compliant protocols for green building management.
The Purair ECO, available in five standard sizes, is based on the company's Purair Advantage ductless fume hood model with additional features to include:
Horizontal tempered glass sliding sash with optional motorized function, or manual vertical lift sash.
Air Science EFT™ Enhanced Filtration Technology to enhance the widest range of applications in the industry.
Multiplex™ Filtration System to permit a composite of pre- and post-filtration, carbon layered, blended or stacked filters, and HEPA/ULPA safety filters for biological and particulate containment.
Unique Air Science filter installation roller assembly to simplify filter replacement, assure proper gasket seal and eliminate bypass leakage during operation.
Optional PID electronic gas detection system with wide-spectrum internal chemical reference to confirm filter efficacy, complete with metal oxide array for hydrocarbons and VOCs, an acid array to detect acid vapors, and a front-mounted colorimetric gas sampling port for manual testing.
An ergonomic arm rest design to improve user comfort and productivity.
For details and ordering information click
here
.