Effective at eradicating COVID-19 contamination, the new Air Science UV-Box Decontamination Chamber is a high-efficiency tunnel enclosure designed to safely decontaminate masks and other small items while providing a safe work environment for the operator. The tunnel contains UV lamps situated within the chamber which emit shortwave ultraviolet light at 254 nm, known to destroy exposed surface viruses and bacteria on the contents of the chamber. In light of the Coronavirus outbreak, UV germicidal lamps are being used to aid in disinfection of air, surfaces and equipment to help reduce and control the spread of the virus. Ideal for hospitals, pharmacies, clinics and food service facilities, the professional design and construction of the UV Decontamination Chamber enhance operator convenience, ergonomic operation and easy cleaning.
UV Surround Technology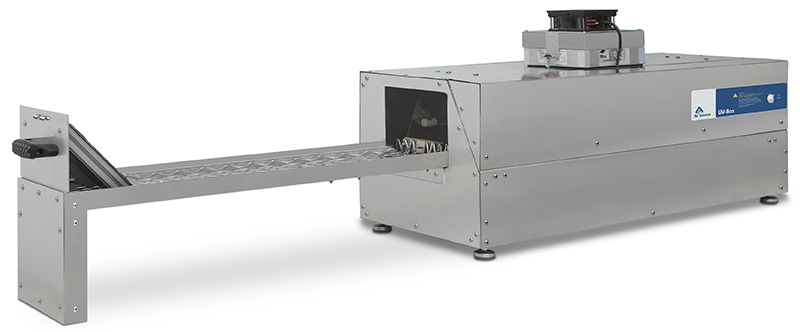 The new UVB-40 features strategically positioned UV lamps engineered to assure uniform irradiation surrounding the perforated tray, with a unique tunnel design which facilitates easy loading and high throughput. An optional user-friendly microprocessor control system provides a visual display of programming capabilities, status and safety functions, while the chamber incorporates an interlock function to interrupt operation in the event of an accidental opening. Both HEPA and activated carbon filters capture pathogens and vapors emitted as a byproduct of decontamination, protecting the user and the environment. The Air Science UV-Box Decontamination Chamber may be utilized on a tabletop or is available with an optional wheelchair-accessible mobile cart.
UV-Box Benchtop Decontamination Chamber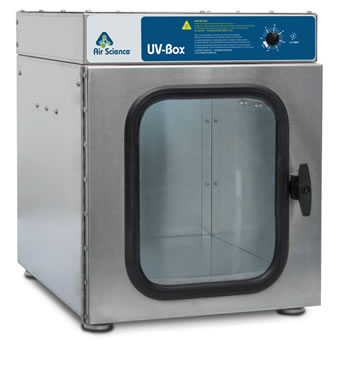 Air Science also offers the UVB-15, a high-efficiency benchtop unit designed to safely decontaminate contents while providing a safe work environment for the operator. Engineered for simplicity and efficiency, the UVB-15 UV-Box Benchtop Decontamination Chamber delivers fast DNA decontamination using strategically positioned, high intensity UV lamps. User-friendly features include a UV timer control, key lock, easily-cleaned stainless steel interior and a hanging rod and shelf to suspend items to be decontaminated.