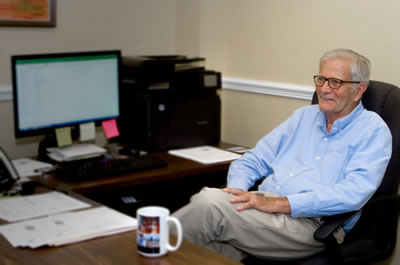 Andy Chambre often told his family and employees that Air Science is more than one person, more than one effort. Today, there is one less person in the office.
On Wednesday, May 15, 2019, Andy passed away peacefully from a sudden illness with his family by his side. He was 81. He left a legacy embraced by thousands of scientists and researchers as well as lab and industrial safety advocates around the world.
Andy was among a generation of post-WWII entrepreneurs who started companies at the kitchen table with high hopes and second mortgages, and endured setbacks and sleepless nights, one payroll to the next, while celebrating successes as they came. As his company grew, and as his children went off to college, Andy had a dream that one day they would return to work alongside him. And so they did.
Andy's story is a journey through the American free-enterprise system, a rough road that tested his resolve, rewarded him with enormous satisfaction and earned him a reputation as an industry pioneer who championed the idea of "social responsibility".
Andy was passionate about safety in the laboratory workplace. He learned early lessons about carbon filtration and airflow, how to provide protection for people who worked with volatile chemicals and particulates, and how sensitivity to the environment could coexist with ambitious industrial and scientific research.
As his company grew and his children assumed their apprenticeships in management, logistics, marketing and human resources, Andy also made room for a generation of new workers, many of who were immigrants seeking a better life and who continue to power Air Science with hard work, ingenuity and ideas. Andy enabled many newcomers to become productive American citizens, to start new lives and to challenge the future with opportunities born decades ago. He shared the American dream.
Andy's commitment to his profession extended far beyond manufacturing a quality product; he was acutely aware of where his products were needed, how they could be used and always, how they could become better. As an author and contributor in many papers and professional organizations, he continued to work with others, including competitors and regulatory agencies, to establish standards for workplace safety and air quality that define our industry to this day.
No transition is ever seamless. Andy wasn't interested in retiring. But his foresight in building an experienced management team was already starting to pay dividends. We will move forward, not totally without him, but with his spirit and ideals guiding us each day. Andy said Air Science was not about one person. He was right. But he started as one and grew us into a force for economic development in Fort Myers and throughout Southwestern Florida. He remained a sentinel for workplace safety in laboratories, law enforcement agencies, classrooms, hospitals and biotechnology companies around the globe.
On behalf of Andy's wife and lifelong partner of more than 60 years, Diane, his children Paul, Michele, Linda, Mark, and Denise, beloved 10 grandchildren and an extended family and employees, thank you for your confidence in Air Science products. Yours is a trust that has validated Andy's life which was, in many ways, his life's work.
God bless Andy. May he rest in the peace and comfort of a job well done. A New Englander at heart, Andy will be interred in Worcester, Massachusetts.