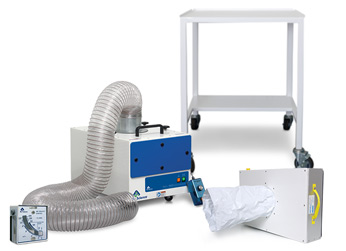 Many of our products can be enhanced with options or accessories available to suit specific applications or user preferences.
Cabinet options are available by special order and require factory modification; these must be specified at the time the cabinet is ordered.
Accessories that are factory installed must be specified when placing your cabinet order. Other accessories may be ordered after-the-fact and installed by a qualified technician or the cabinet user, depending on the proficiency required.
For your convenience the Options and Accessories link on your product page lists each option related to a specific cabinet.
General Categories
Accessibility/ADA
Bars and Hooks
Carts, Stands, Bases, Casters
Consumables
Controls
Devices
Ducting
Electrical
Filtration
Finishing
Inventory Management
Lighting
Plumbing
Sash Variations
Windows, Panels, Visibility
Work Surfaces, Trays